You did what?!?!! Why I unionised our workforce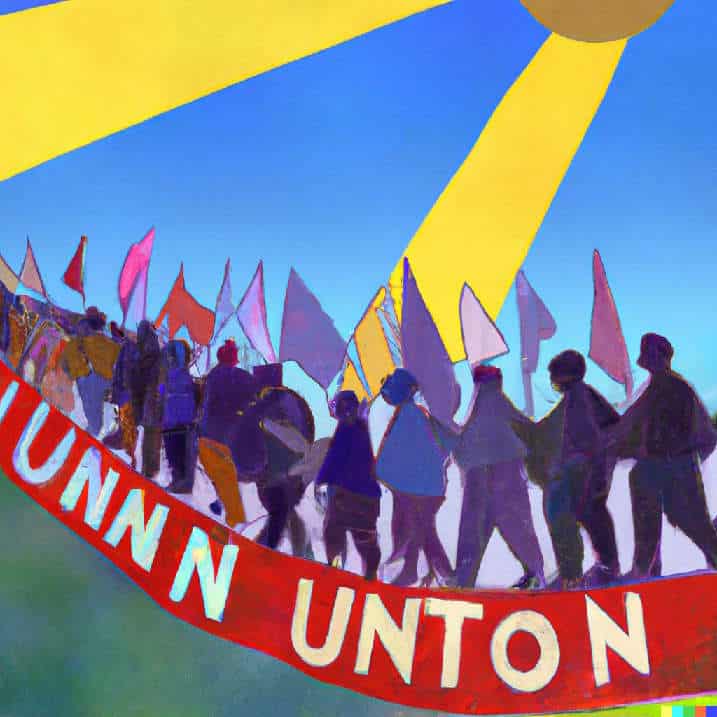 The world's first trade union was, according to chatGPT,  the Society of Tailors. Formed in Edinburgh, in 1721 it was established to improve the working conditions and wages of its members, who were among the first workers to organise for collective action. The society was short-lived, however, and was disbanded after a few years due to opposition from employers.
This 18th century framing of organised labour as being in direct opposition to management is  still the prevailing view among many business owners and members of the public. So why then would a founder, CEO and business owner, with staff in twenty countries, choose to create, fund and recognise a trade union?
My experience of trade unions didn't start in the boardroom, it started on the ward. In my 20's I worked as a nursing auxiliary for the NHS. The work was rewarding, as anyone who has worked in the NHS will tell you, and the sense of being part of something important was inspiring.
As a non-medical NHS employee I was entitled to join UNISON, the public service union. At first I hesitated, I'd grown up in the 80's, a time when anti-union bias dominated the political discourse'. In the end I only decided to join after meeting our local convenor, Norma.
When we think of the work unions do, we think of pay disputes, strikes and pickets. The day to day work of a union, however, is nowhere near as exciting, but just as important and consequential. Most of the value I got as a union member was addressing the numerous, small mismanagements that are common when working in large, complex organisations. For example, losing annual leave when sick, being on shift with unsafe staffing levels, being blamed for the mistakes of others. Having these issues addressed had a huge impact on how I felt about work. It's easy to feel like a cog in a machine, especially if your job is not that senior, I found the representation I got from the union made me feel valued and respected. The presence of a union in the workplace also had the benefit of improving the overall competence of managers and ensuring policies were followed.
When a colleague was involved in a violent incident whilst on a shift with fewer than the recommended number of staff, her managers tried to position the incident as her fault. Without representation they would have succeeded.
As Voodoo Park grew I wanted to make sure we provided our people with the benefits described above: a positive experience of day to day work, a high quality of management practice, and guaranteed protection from injustice or incompetence. Forming a union seemed like a logical way to achieve this.
So how does the Voodoo Park Union work? To get started we took some advice from the Trades Union Congress. We can't join the TUC as our union is multinational, but they had some good advice and a wealth of experience. Everyone who works at Voodoo, with the exception of the Board, is a member of the Union. We have a convenor, Norma, the same person who was my convenor when I worked in the NHS. And everyone has access to her. HR notifies the Union of any leavers, disciplinaries, grievances etc and the Union offers support and representation. Any HR policies are agreed jointly and the Union ensures they are implemented consistently. As we have so many different cultures here at Voodoo the Union plays a vital role in ensuring we make, and implement, decisions with the appropriate cultural sensitivity.
This covers the first two benefits, day to day working and quality of management. The third, protection from potential injustice and incompetence, requires more than just powers of negotiation and representation. To achieve this the Union needs specific powers to challenge authority. This is done by the creation of a  three-member council made up of people not directly associated with the company. One member is nominated by management and one by the Union, these two members then nominate and agree on a third. The brief of the Council is to rule on disputes between management and the Union in a way that 'helps us build a thriving business that respects and protects the people that work in it'. Both management and the Union are committed to abiding by any Council ruling. It's hard to imagine under what circumstances the Council would be required to rule, but it provides comfort and security to our people to know such a body exists. It also provides a level playing field for all our people, regardless of where they are based. Employment rights in the UK often exceed those afforded to those in other countries. The Union mechanism ensures that everyone gets the same treatment everytime.
Unionisation has been transformational at Voodoo. It's improved morale, retention, productivity and helped us recruit. GIven the complexity of our business, the number of territories involved and the varied nature of the work, I couldn't imagine running Voodoo without a union. I know a lot of my peers are instinctively opposed to worker organisation, but I think they're mistaken. I don't believe the big union-busting corporations of today are anti-union because they think it's better for their people, the planet, or even their businesses. For many it's an article of faith. In the same way that equality feels like persecution to the privileged, unionisation is seen as a constraint by those with unchecked power. Perhaps it's time to move to a more multi-stakeholder view of business. Perhaps it's time to listen to more voices than just our own.